The Wispr digital otoscope is similar to a smartphone or a computer. Unlike a traditional otoscope that only has a light bulb, the Wispr has six different circuit boards along with an LED light and an LCD display. Because of this, the Wispr requires consistent power.
Although it won't generally fix an error condition, having the latest version of the Wispr software will optimize the power management of the Wispr and provide the smoothest clinical experience. The latest version of the Wispr software can be found here.
If the power supplied to the Wispr is too low, it's likely that you will see either or both of these error messages:
These messages are most often seen when using a power handle when either:
The battery is not fully charged
The battery is old
The rheostat (on either battery handle or wall handle) is not turned to full-on
An old battery loses the ability to deliver consistent power to the Wispr. Look at the battery in your handle, it should have a date on it. This date is the end of support for the battery (generally two years after the sale). For example, NOV 17 indicates that the battery is out of support since November 2017.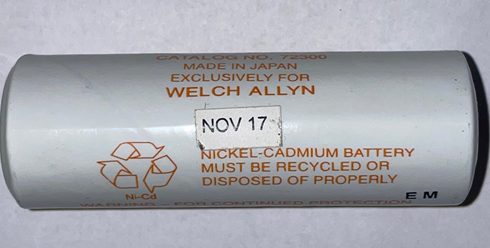 Checking your battery:
Make sure your battery is still supported (date code)
Is it is fully charged? – this can take up to 16 hours for the Welch Allyn 71000-A handle.
If you are still getting error messages and you have fully charged your handle, it is likely that your battery needs to be replaced.
Please contact WiscMed support and we can work with you to troubleshoot the problem and provide you with a new battery if needed.
Feel free to give us a call if you have any questions at 608-729-7234, option #1. We are available from 8:00 am to 6:00 pm Central Standard Time, Monday-Friday. You can also contact us by clicking "support" from our website or emailing wiscmedsupport@wiscmed.com.
________________________
We offer a two-week trial program after an approved evaluation form is received by WiscMed.
We also offer a quick, live, and insightful 15-minute demonstration. This is a great way to have any questions answered and see firsthand some of the benefits of the Wispr Digital Otoscope.
Schedule a virtual demonstration
Buy your Wispr Digital Otoscope today