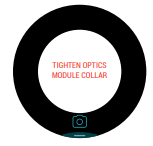 This message indicates that there is a problem with the image signal coming from the optics module. The optics module is the portion with the thin silver tube that holds the nano camera and the light fiber bundles. The optics module is secured to the Wispr body by the optics module collar.
This condition can be caused by two different issues.
The first cause is low power. If you are using a battery power handle, make sure it is fully charged and that you are using fresh batteries. Make sure the rheostat on the power handle is turned to its highest position.
The second cause is if the optics module is not properly seated. Remove the optics module collar. Inspect to make sure there is no debris on the internal connections. Reinstall the optics module collar. Watch this short video explaining this procedure.
If the problem continues, please contact WiscMed Support.
_________________________
We offer a two-week trial program after an approved evaluation form is received by WiscMed.
We also offer a quick, live, and insightful 15-minute demonstration. This is a great way to have any questions answered and see firsthand some of the benefits of the Wispr Digital Otoscope.
Schedule a virtual demonstration
Buy your Wispr Digital Otoscope today